Family homes on urban lots demand an efficient layering of flexible uses of space, and none more so than this South Eugene project. This 1940's era house has had three generations of room additions along the southern edge of the back yard. Each addition has its own distinct character and function, and each room has its own exterior door as its only connection to the main house. Because natural springs are common in the area, the original lawn was constantly wet, making circulation from room to room troublesome. Therefore, creating dry routes between the house and the additions was a critical component of the design.
This project was inspired by a desire to enhance the character and utility of each of these distinct areas, while also establishing unity and integration of all elements in the larger space. The first room is the guest and recreation suite, which required a shared community outdoor space and a strong connection with the main house. The second room is a small shop that had the potential for increased functionality with the addition of a covered outdoor work space. The third room, furthest from the house, is a studio for reflection and massage that was in need of a private serene garden. In order to create flexible paths of circulation between these very different environments, we exploited the subtle changes of elevation at each entry and divided the garden into successive courtyard rooms.
We nestled a spacious gravel-paved entertainment patio into the space between a new covered entry to the guest suite and the back porch and hot tub deck of the main house. Vividly colorful planting now enlivens the space while providing a natural privacy screen for the hot tub in this densely housed neighborhood. Wide concrete steps climb to the utility level, where the new covered concrete porch for the shop creates space to pull out the table saw in all seasons. Two full-sized raised vegetable garden beds -- accessible via cleanly compacted decomposed granite paths -- complete the working courtyard.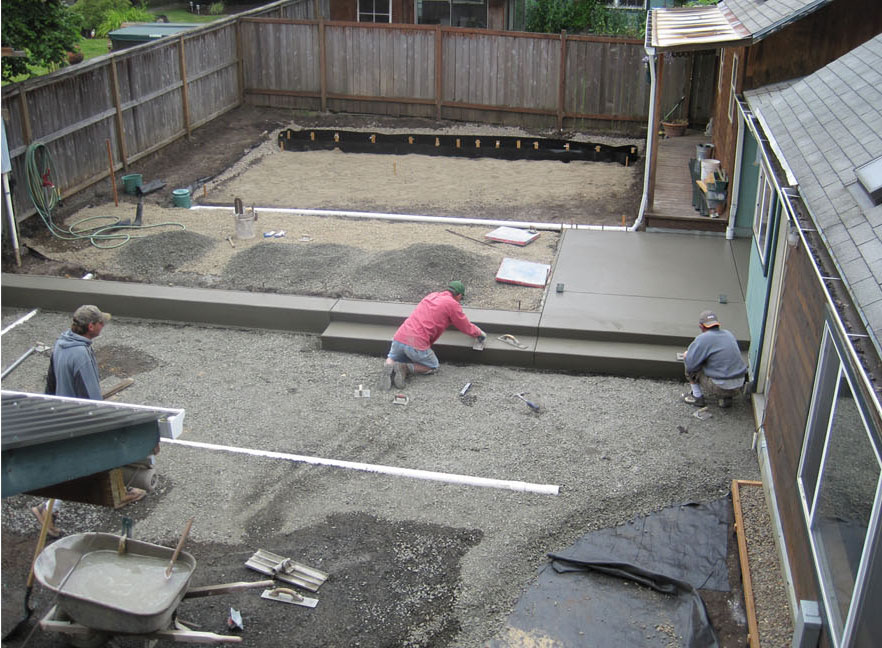 To provide the privacy and serenity needed that the massage studio lacked, we added a carpet of lawn surrounded by bamboo, false cypress and vine maple plants that embrace a soothing private green meditation garden. Hidden below this new garden is a system of drain rock and perforated pipe that collects, stores and then removes excess storm water, keeping the lawns and paths dry and functional all year. The use of inexpensive materials combined with the clients' labor kept this back yard remodel very affordable, and the gain in flexible outdoor living space is priceless. Even as planting matures, glimpses of each courtyard will remain throughout the entire garden, thereby preserving the sense of expansive space. Common materials and finishes tie the three rooms into an uncomplicated yet extremely versatile courtyard garden.
More