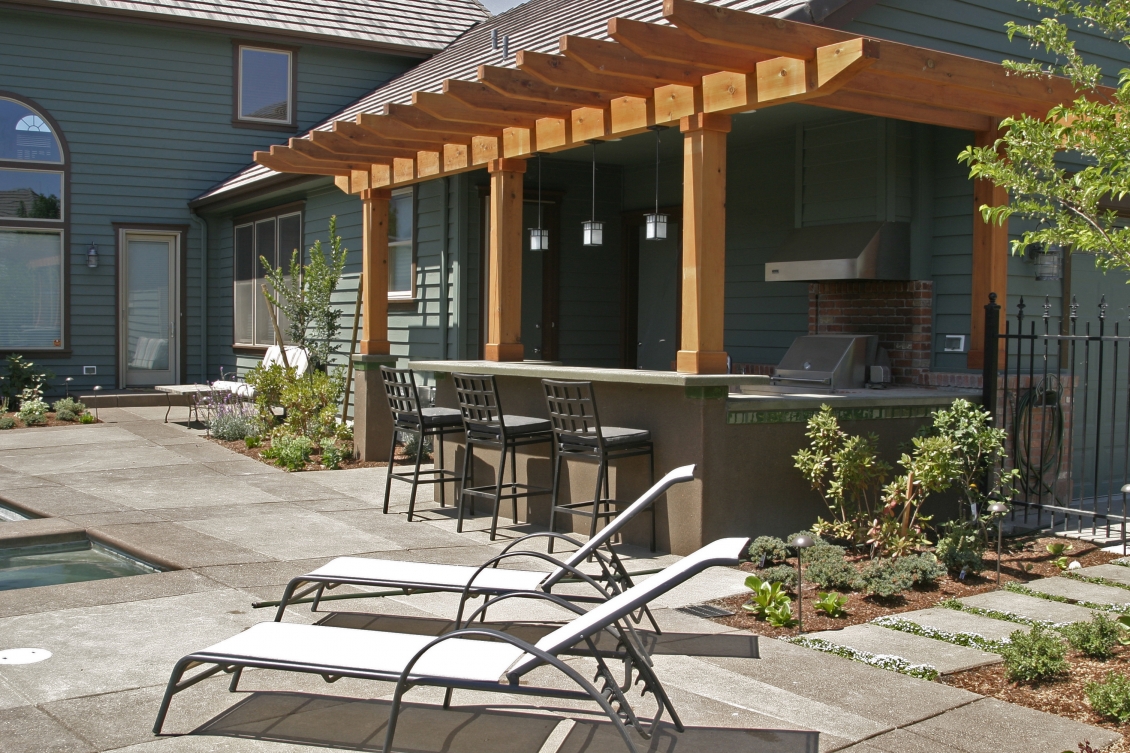 Do you ever reach the rainy months feeling like you missed out on your summer outdoor experience? Summer in Eugene is the time when our gardens truly shine; they inspire us to spend time outside and serve as everything from a restful retreat to a place for hosting dinner parties and cookouts. Whether you treasure the quiet respite of a solitary cup of tea or coffee in the morning or the bustling activity of a group event, the summer garden invites us to live and dine outdoors and savor the summer weather. Have you ever wondered how your garden design could improve your outdoor dining experience? Winter is a perfect time to plan your garden redesign. In a previous post, we explored the potential for a garden to supply food: this one investigates the many ways we bring our food into the landscape, and how the design of spaces can encourage outdoor dining.
Outdoor dining means different things for different people. Many of us relish the experience of cooking food outdoors during the summertime; it saves our homes from the heat of cooking and ties to our nostalgia of picnics and barbecues. For some, the Fourth of July and Labor Day would not be the same without a cookout. But how can our landscapes support us to cook or eat outside, and offer a functional cooking and dining experience?
One way to customize a garden for outdoor cooking is to create a space for the ritual of food preparation. Too often, gardens allow space for a grill without any surrounding support spaces, and we find ourselves trekking between home and garden as we cook. Carefully tailoring the outdoor space to allow workspace near the grill is a simple step that makes outdoor cooking easier. Likewise, a cooking area surrounded with edible plants creates an integrated garden for harvest and cooking.
For those who prefer the convenience of a full kitchen in the house, eating outside is still wonderful in the warm, dry months. As you plan your outdoor living spaces, consider – do you want to create an intimate space that invites more solitary retreat? Or do you want to host a garden party for a group of friends? Flexible gardens with these considerations in mind will give a platform for outdoor dining that meets your current desires but can adapt to future needs, and make pockets of space for a variety of uses. Rather than creating a single large hardscaped area, consider mixing permeable paving and lawn into your dining area to create more adaptable spaces that can expand to suit your needs without overwhelming a small group. Similarly, a carefully orchestrated lighting design will provide both intimate ambiance and broad-reaching illumination to support an array of events. Even small spaces can be wonderful outdoor rooms.
At Lovinger Robertson Landscape Architects, we consider the garden as an extension of the home, and view outdoor spaces as an opportunity to increase the function and beauty of the way you live. Outdoor terraces, porches, decks, and lawns become rooms to inhabit in the summer months, and are some of the building blocks of our designs. As you imagine better outdoor dining options, we are happy to help make your garden into a beautiful and functional place in time for the next summer season.