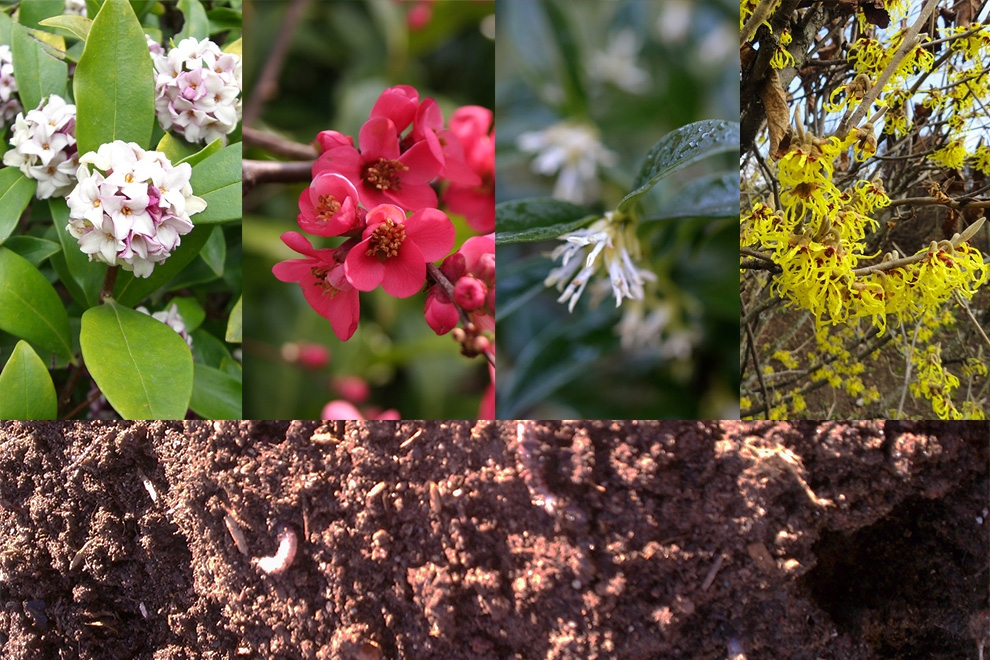 When we came across Anne Raver's article "Asking More of the Landscape," which recently appeared in the New York Times, we were reminded of the multitude of intertwining factors that we must always keep in the forefront of our minds as landscape architects. One excerpt in particular stands out. Douglas Tallamy, co-author of the recently published book The Living Landscape: Designing for Beauty and Biodiversity in the Home Garden, points out that, "in the past, we have asked one thing of our gardens: that they be pretty. Now they have to support life, sequester carbon, feed pollinators, and manage water." We could even make additions to that list. Our design ethos also demands that we ask gardens to be livable spaces that meet the needs and wants of our clients.
The much welcomed winter blooms of the witch hazel, daphne, quince, and sarcococca remind us all that spring is fast approaching. Proper preparation for a thriving growing season requires that like landscape architects, you should think of several parallel processes at once.
Soil preparation will be the foundation of landscape success or failure. If you are planning to add a new spring planting, it is crucial to conduct soil testing to determine the appropriate soil amendments. Resources on the Oregon State Extension website thoroughly detail how to collect soil samples (http://extension.oregonstate.edu/gardening/node/937). The extension service also provides listings for local laboratories specializing in soil analysis.
The correct timing of soil amendment and turning adds another layer of complexity. You must add amendments with enough lead time to allow the soil to settle. Turn the soil too early and you may compact the soil and negatively impact the soil structure. Turn the soil too late and you will be in for a season of preventable, additional watering. Many strategies advocate not turning the soil at all, but layering on top of native soil with compost.
While thinking about all of the above, also consider that late winter is the time to finalize planting design. In what will seem like no time, the nurseries will be full of choice perennials and ideal structural plants. If you do execute a spring planting, you will at least need some kind of temporary irrigation strategy. With our dry summers, even native plants adapted to the Willamette Valley will require irrigation for the first one to two years of establishment. Getting your planting plans in order now will give you enough time to plan for irrigation requirements.
Believe it or not, this juggling of simultaneous timelines and to-do lists is fun for us. We'd love to share our years of training and gardening experience to help you sort through strategies for a thriving, symbiotic, functional…and yes, pretty… garden.