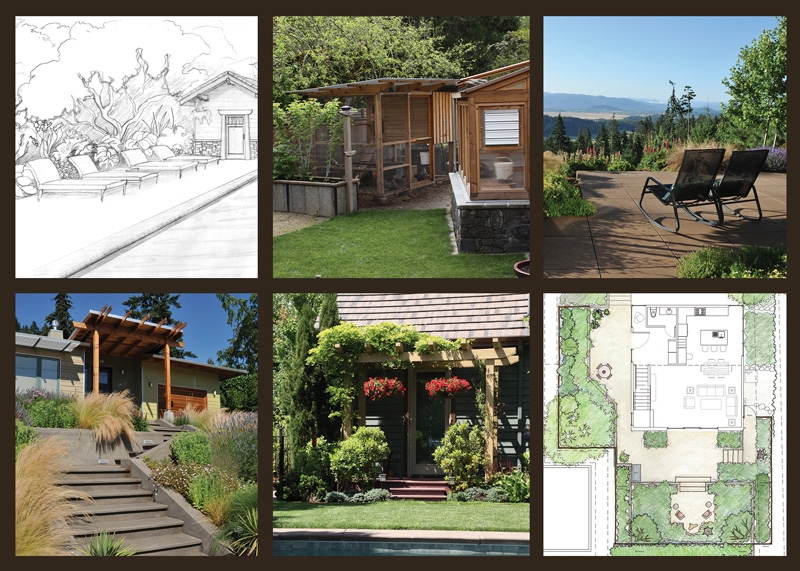 In Eugene the rain lasts for a long time, but Oregonians don't let rain derail productivity and forward progress. The winter is the ideal time to initiate the design process for your landscape. The rainy months allow the right amount of time for dreaming and scheming. We have found that the most successful designs begin with a clear vision of what it is that you want. Do you envision a garden bursting with color and vibrancy or do you dream of a tranquil retreat? A good way to get the creative juices flowing is to look for inspiration on sites like Houzz or Pinterest, in magazines like Landscape Architecture Magazine or Sunset, and in books. Think of adjectives that best describe the images that you are drawn to, and create groupings of words that summarize your style. Are you going for elegant, simple, and contemporary? How about lush, boisterous, and playful? Identify key words like "edible landscapes" or "sustainable design" that tend to pop up repeatedly in your search. The combination of visual imagery and written description adds to the refinement of your ideas and helps to clarify design intent.
During this phase of gathering inspiration, also think about how you want to live in your landscape. Are you passionate about entertaining and crave an outdoor dining area with easy access to the kitchen? Do you daydream about summer naps in a shady hammock? Are you looking for a way to incorporate chickens into the garden? Think about how much time you want to spend maintaining your landscape. Do you want to spend a day working your garden only once or twice a season, or do you enjoy doting over tender plantings on a regular basis? If you spend the time to contemplate these questions, we will be able to help you match your design goals with your lifestyle.
Once you initiate a working relationship with Lovinger Robertson Landscape Architects, we will sit down with you to talk about your landscape, your ideas, and your needs and wants. Then we can start to contribute our expertise in order to help you accomplish your vision.