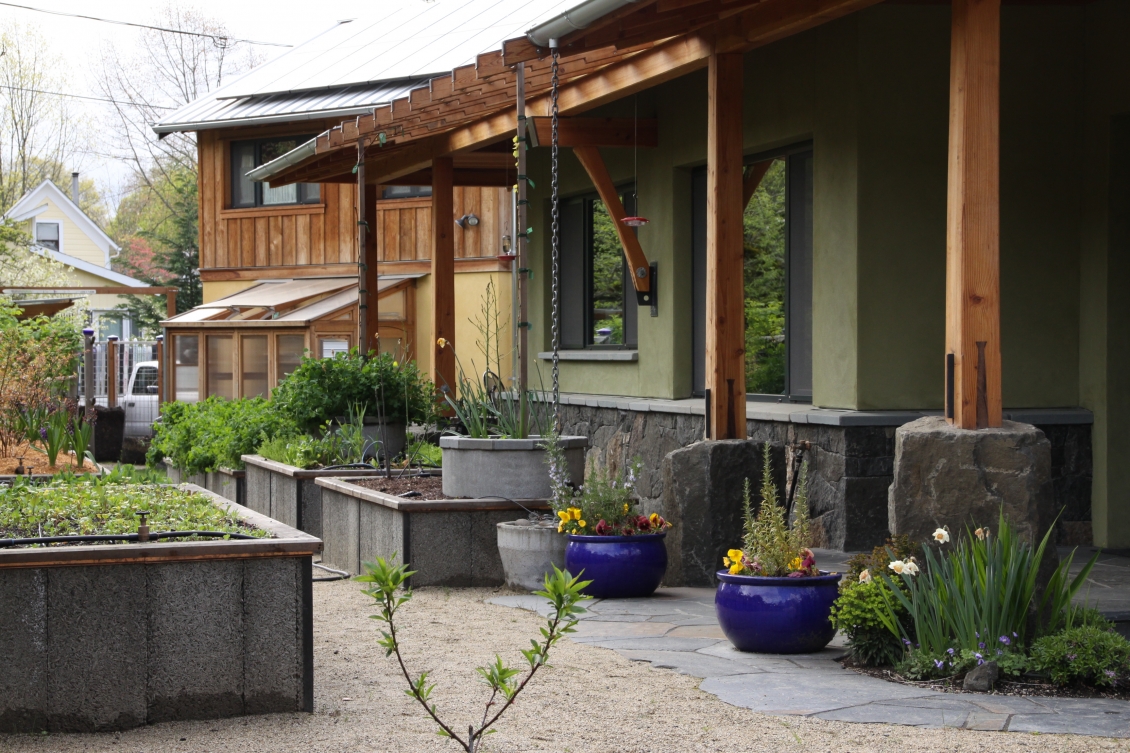 As the days lengthen and the weather warms here in Eugene, Oregon , we are excited by the approach of summer. Farmer's markets laden with produce and gardens bursting with abundance go hand-in-hand with these sunny days. Eugene has an ideal climate for food production, and the benefits of growing edible plants are numerous. This is the perfect time of year to start establishing a vegetable garden. While this process may seem intimidating, there are many ways you can incorporate edibles into any size or style of garden.
Raised beds are a tidy and easy form of vegetable gardening. This method allows the gardener to import and amend better soil, and is productive in small areas. Raised beds also are easier to weed and maintain. Tidy rows of crops harken strongly to agricultural aesthetics. The familiar and homey look of dedicated vegetable beds satisfies our desire to raise our own food, and the taste of freshly harvested veggies is unparalleled. For the more casual gardener, edible crops can also be integrated into flower gardens and can provide exceptional ornamental value.
Beds of mixed ornamental and vegetable crops are a great way to create a multi-functional garden without the commitment of a dedicated vegetable area. Many of our edible crops also have excellent aesthetic value. Tuscan kale, artichokes, and rhubarb provide architectural interest with their bold texture and structured foliage. Herbs like dill and parsley bring light frothy textures to the garden. Fig trees have sculptural form, attractive bold foliage, and provide fruit in the late summer months. Many fruit- and nut-bearing trees have striking flowers in the spring months. Blueberry shrubs have interest that spans many seasons, from spring blossoms to summer fruits, with bright fall color and red twigs in winter. Raspberries can be trained along fences to visually soften the edges of the garden and provide summertime fruits, while espaliered fruit trees create a formal, cultivated aesthetic at the garden edge. Many edible crops also provide valuable food sources for pollinators, which is of significant benefit to other plants and gardens, as well as the heath of the pollinator population.
For the smallest gardens or for individuals just starting to experiment with edible crops, container gardening provides an opportunity to grow food crops in a tiny footprint. Many vegetables and herbs –including tomatoes - are well-suited to growing in containers, and nurseries are continually developing dwarf berry plants and other fruit-bearing crops that can thrive in containers.
Edible gardening is unique in its flexibility and adaptability to many scales and aesthetics. Layout of an edible garden can be an art form, and balancing productive space with areas for ornamental plants and outdoor living can pose a challenge for many homeowners. At Lovinger Robertson Landscape Architects, we can help you balance these complex interactions and create a space that is welcoming, engaging, healthy and delicious.