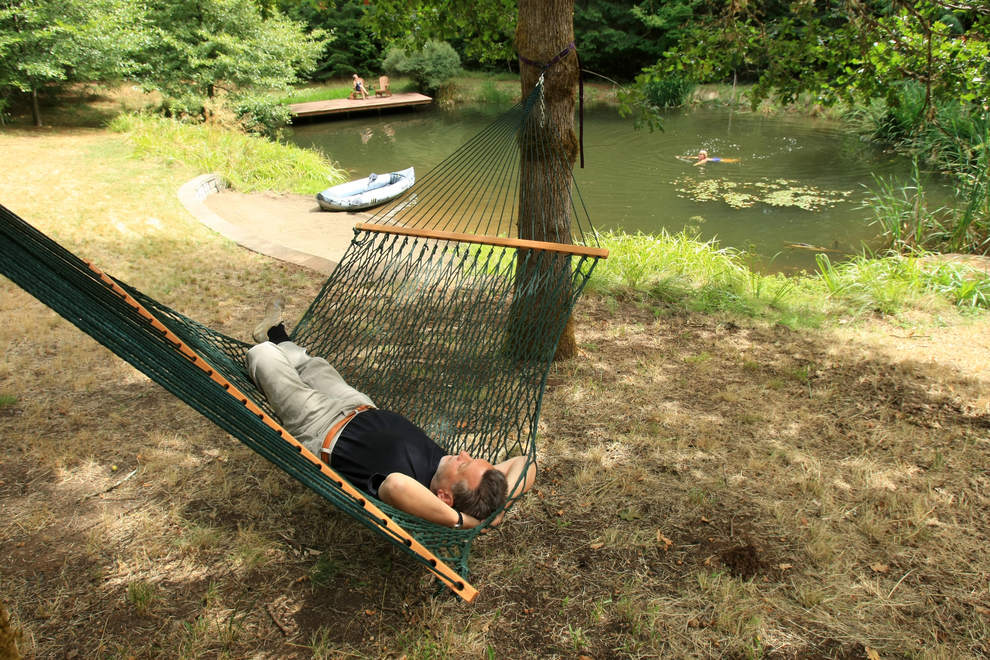 We were recently interviewed by the Register Guard newspaper of Eugene, OR. See the article at The Register Guard.
It is repeated here below:
By Kelly Fenley
Photos by Collin Andrew
June 19, 2014
Rainy days add up to summertime fun for Jackie Robertson. She has a pond on her country property south of Eugene that collects rainwater. Lined with clay to prevent leaks, it's where she and friends swim, sunbathe, glide a kayak and soak up a wetlands solitude bustling with blue dragonflies, warbling birds and squiggly salamanders.
Evenings bring chorus frogs and battalions of bats on mosquito patrol. "Oh, I love it," says Robertson, a landscape architect. "There's so much that goes on by the pond that doesn't happen in other places because of the wildlife that show up." "One day I was in shock," she thinks to add. "I was just lying there being lazy. Somehow or another, because I was so still, a blue heron didn't realize I was a threat and landed on the dock 6 feet from me."
Lessons learned
But this 100-foot by 60-foot pond wasn't always such a natural oasis. When first dug out by previous owners, it had a narrow patch of land jutting into the middle, likely because a backhoe had sat there while excavating the pond into a horseshoe shape. But the problem with the peninsula was that it created growing room within the pond for self-populating plants. Cattails, wild roses, sedges and rushes infiltrated the peninsula's shallow-water shelf and began making their own soil. "So what ended up happening, the pond started disappearing," Robertson says.
She decided to start over.
A contractor, Dennis Cole of Dennis Cole Excavating, formed the pond into an oval shape, 9 feet deep at the center. "When we did that, we also planned for most of the sides to be quite steep, and that was so the vegetation couldn't walk in very far," Robertson says. Next she had Rexius line the pond with 50-pound bags of bentonite clay sourced from Eastern Oregon. When the clay gets wet, it swells and plugs leaks. "You have to line the pond, period," exclaims Robertson, who, along with Justine Lovinger, owns Lovinger Robertson Landscape Architects in Eugene. She chose clay for a balanced ecosystem and long-term ease of care, but says a synthetic or even concrete liner also would have sufficed to seal the pond. For the safety of kids, pets and wildlife, a little beach breaks up the pond's steep rim. Kids play on the beach, made of compacted gravel topped with sand, and the shallow water provides a quick exit for wildlife in over their head.
Concrete piers for the swim dock escalated the pond's cost, which Robertson estimates at $25,000 when including the value of her own work and expertise.
Suitable setting
Flat ground works best for most ponds, but it's sloped topography within a perimeter of firs, cedars, Oregon ash, vine maples and bigleaf maples that channels rainwater into Robertson's reservoir. A spillway directs overflow back into the terrain's natural drainage. Without a spillway, Robertson notes, overflow would erode the pond's earthen dam. She would welcome a little creek or spring for water supply, but warns that many waterways carry protections for wildlife and people irrigating downstream. "Before you build a pond at all, the correct thing to do is talk to the Water Master," she says in reference to the state Water Resources Department. In fact storing water of any kind requires a permit from the state, unless it's runoff from an asphalt driveway, rooftop or other impervious surface, says Scott Grew of the Water Resources Department. "All water is owned by the people of the state of Oregon," explains Grew. Before excavating a pond to store water off the land, he says to call the department at 1-503-986-0800.
Keeping it clean
Hot summer days can evaporate Robertson's pond at up to a quarter-inch per day. "So that's another reason to try to have less surface area compared to depth," she says. "The shallower ponds are going to disappear faster than a deep pond." (Refilling a pond with well water also requires approval from the Water Resources Department, Robertson notes.) But other forces of nature help keep the pond clean. During winter, the pond's surface temperature turns colder than water below. Quite suddenly, an "upwelling" will cause warmer water below the surface to rise, while the colder surface water sinks. When the bottom water rises, it brings the mud with it and clouds the pond, Robertson notes. But come summer, the reverse happens: water on the surface heats to the point where colder, muddy water sinks back to where it started. "So literally my pond was muddy a week ago, and now it's clear," Robertson says. "It just flipped in a week."
Natural ecosystems around the pond, especially vegetation limited to shallow water, will foster beneficial organisms to control mosquitoes. Shading from trees and keeping the pond's bottom free of organic matter, such as leaves, help to limit algae blooms and water weeds. When she must treat an algae bloom, Robertson uses a powder called GreenClean.
"One should not be disheartened if for the first two or three years (after digging a pond) you have to fight with algae," she says. "You can't expect a full, natural biotic system to redevelop right after you have (excavated). After a while things will start to balance out." So long as it keeps raining, of course.
Home & Garden editor Kelly Fenley can be contacted at [email protected]. Follow him on Twitter: @KFenleyRG
Pond permit
Anytime water is stored from off the land, such as from a stream, spring or even rainwater, a permit is required from the state of Oregon's Water Resources Department. For information call 1-503-986-0800 or see www.wrd.state.or.us.